The publication titled "2030 – Stories from the Future of Four Cities" is published
Published: 21.11.2022.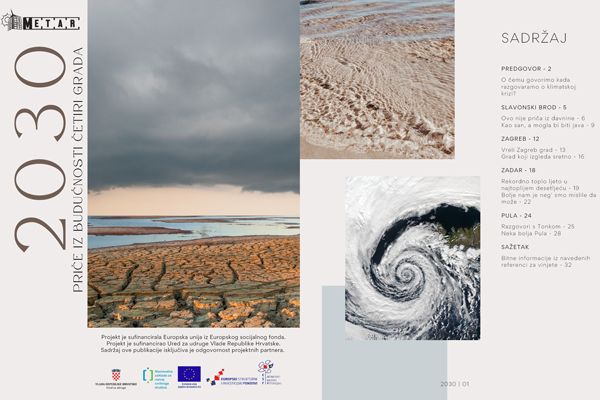 The publication titled "2030 – Stories from the Future of Four Cities" consists of vignettes with possible future scenarios in the context of climate changes, which were used in focus groups conducted in four Croatian cities: Slavonski Brod, Zadar, Zagreb and Pula.
Although the vignettes are made-up stories with hypothetical scenarios, they are based on real scientific indicators. Based on the data from the UN Intergovernmental Panel report AR6 Climate Change 2021: The Physical Science Basis, five possible scenarios of global warming are used. The most optimistic among them foresees a 1.5 degrees Celsius increase of the global temperature by 2050, while the most threatening one, which should be avoided at any cost, envisions a 4.4 degrees Celsius rise by 2100.
The publication suggests that the scenarios are a result of complex calculations depending on the rate at which people reduce and combat greenhouse gas emissions. Consequently, it cannot be ascertained which scenario is most likely to occur, since many factors contribute to it, including governmental policies. Nevertheless, the scenarios point to the ways in which the choices we make today can influence the future. The authors point out that each scenario, regardless of how optimistic it is, foresees a continuation of the global warming for at least a few decades. However, the intensity of sea level rise and the level of danger due to climate change and extremes still depend upon the direction that the world will take and how resolute it will be.
The publication is a result of the project "METER to a better climate", co-financed by the European Social Fund and the Office for Cooperation with NGOs of the Republic of Croatia. The project is coordinated by the Society For Sustainable Development Design (DOOR), and the Institute is one of the partner organizations. The project's principal investigator/coordinator for the Institute is Branko Ančić, PhD, and the project collaborator and one of the authors of the publication is Tomislav Cik.
The publication is available here.